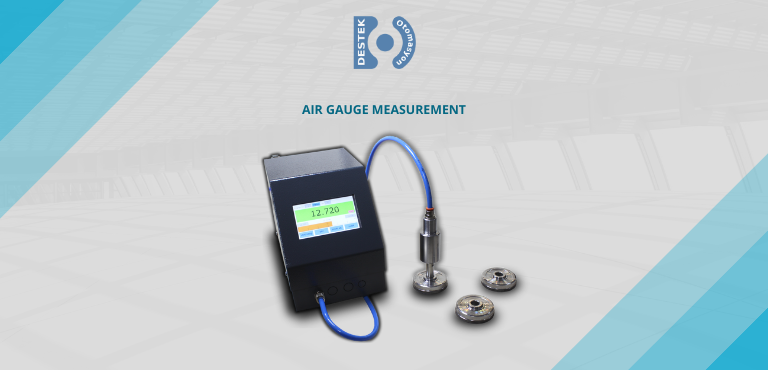 The Air Gauge Measuring Instrument uses compressed air to measure micrometer accuracy in seconds by means of a probe. Thanks to its color screen, measurement tracking, adjustment and logging operations can be done practically. Using network connections such as Wifi, Ethernet, data is transmitted to the user over the local network or over the internet. This system, which is our own design and production, is open to different hardware and usage integrations. 
With its 4.3-inch color touch screen, it has an interface that warns the user with different colors for unwanted measurements. Thanks to its menu, it can perform quick and easy calibration in 10 seconds. It works with micron measurement accuracy and air pressure in the range of 5-8 bar. There is an SPC application that is tracked on the screen and prints out in CSV format via USB. Wifi, Ethernet and Rs485 connections are available. Support in use over the Internet is compatible with the M2M API system. Optionally, with USB connection, it can be integrated with hardware such as printer, barcode reader, GPS, mobile communication devices.
Air Gauge Measuring Device has a wide range of uses from mass production facilities to automotive, aviation and medical sectors. 
Destek Otomasyon Air Gauge Measuring Machine Product Features
Measurement with micron precision in seconds,

Interchangeable nozzle for hole shaft diameter measurement,

Possibility to find nozzles with different characteristics according to the size and places of use,

User-friendly interface that stimulates with different colors in unwanted dimensions,
Destek Otomasyon Air Gauge Measuring Device Technical Specifications
Precise diameter measurement with pressure,

Micron precision measurement,

Display screen: 4.3″ Touch TFT LCD Screen,

Device dimensions 300 mm X 150mm X 190 mm,

Working voltage 220V 50Hz