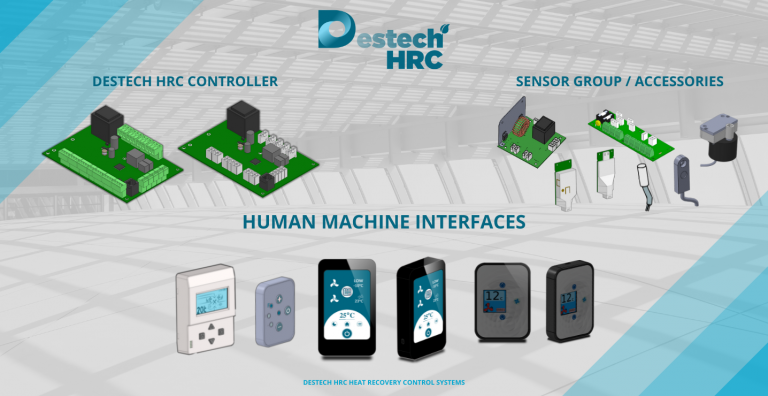 Today, a large part of human life is spent in indoor environments such as home, office, factory and it is desired to improve indoor air quality. For this reason, different solutions are sought. Heat Recovery Devices, on the other hand, basically ensure that some air is exhausted from the indoor environment and fresh air is taken from the outdoor environment. In addition, by filtering the fresh air, it is cleaned of dust and particles in it, making it possible to benefit from the energy of the exhausted air.
Heat Recovery Control Devices
The most basic differences of heat recovery devices compared to basic heating-cooling and ventilation devices (fan-coil, duct-type fan, duct-type indoor units, etc.) are that they have two fans (fresh air and exhaust). In various operating conditions, both fans need to be controlled separately. For example, in some cases, it may be desirable to bring the ventilation environment to positive pressure or to make only exhaust. In this case, both fans are wanted to be turned on at different speeds or one fan is turned on and the other fan is closed.
Basic Functions of Heat Recovery Constrol Devices
In these devices used to save energy, as many ventilation functions can be created as requested. This should ensure that the amount of ventilation is automatically adjusted depending on the amount of CO2 or humidity. Apart from these, in the latest regulations, it is required to have a by-pass system in plate heat recovery devices. If necessary, it is also stipulated that fresh air should be passed through the plate heat exchanger and given directly to the indoor environment.
You can review the links for Support Automation IGK Control Systems.